Chances are you will possibly own at least one of the BIG records legendary producer Mike Fraser has been involved with. Maybe it's The Cult 'Sonic Temple? Aerosmith 'Pump'? AC/DC 'The Razor's Edge? Coverdale/Page? Metallica 'Load'? Slipknot 'Iowa', Thunder's 'Backstreet Symphony'? The list goes on…
I met Mike back in 1993 when Little Angels were touring the 'Jam' album, and he was the last producer to work with the band, recording the 'Ten Miles High' single.
Years later I worked with him on The Virginmarys 'Cast The First Stone' EP and we struck up a great friendship. Since then he has mixed a number of records for me and we continue to stay in touch and plan to work with each other whenever we can.
I think Mike is one of the greatest mix engineers the world has ever seen, his ability to get the best of a recording is quite simply staggering and something of a dark art, so it's a delight to be able to offer this podcast as a way of understanding the man behind the legend.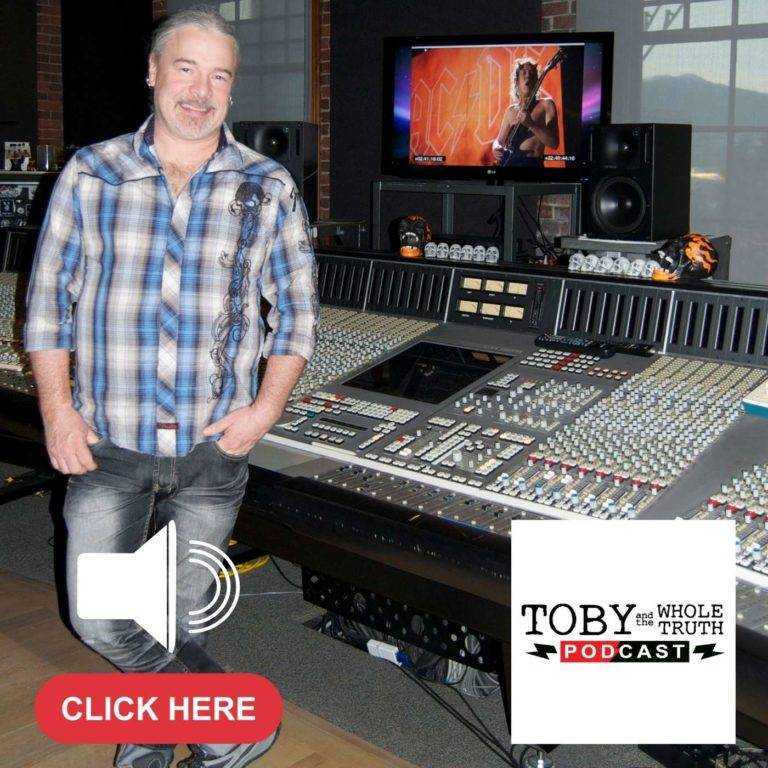 The Digital Busker sessions are officially one year old! To celebrate we have released a new limited edition merchandise range. Designed by the one and only Stuart Dilley (Wayward Sons / Little Angels) this exclusive memorabilia features cast and crew of the show to mark the occasion.
Available for a short time only, with limited availability. This includes a very special 19 track CD album featuring rarely heard fan favourite songs spanning Toby's career.
To avoid missing out on this exciting offer, click on the button below to be taken to Toby's merch store, and pre-order the 19 track rarities CD, unique 'Return To The Kitchen' T-Shirt + A4 poster print.
Offer ends 4th May 2021.
With the 'Toby and the Whole Truth' Patreon community this is much more than a simple 'behind the scenes' scenario. This is my life as a music artist, film maker, podcaster, broadcaster and music producer laid out for you to enjoy at your leisure but not only that, it is also an opportunity for you to help inform me as I continue to pursue my passion for creativity in the arts. Expect exclusive music, videos, live streams, merchandise, special member only events, patron clubs (music, movies, books, and songwriting) PLUS unseen materials from my archives, AAA and much more.